Bookcase /Custom Built/ Wall Units Solid Hardwood Library Units
This was a Art Deco style library unit we built for a customer in beautiful solid
Australian hardwood Black butt with Tasmanian blackwood inserts in the doors
also including a ladder to add that extra bit of  class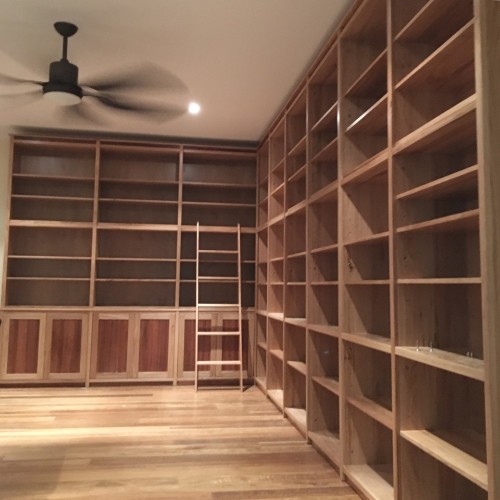 The St Ives Bookcase Entertainment unit was a simple stylish design in stark white
this unit had sliding doors and lots of storage space
The Mix and Match unit was built for functionality but again simple clean lines but with a twist
adding the blackwood trim and doors broke up the otherwise large stark white look a great way
to add a lot of storage on a long plain wall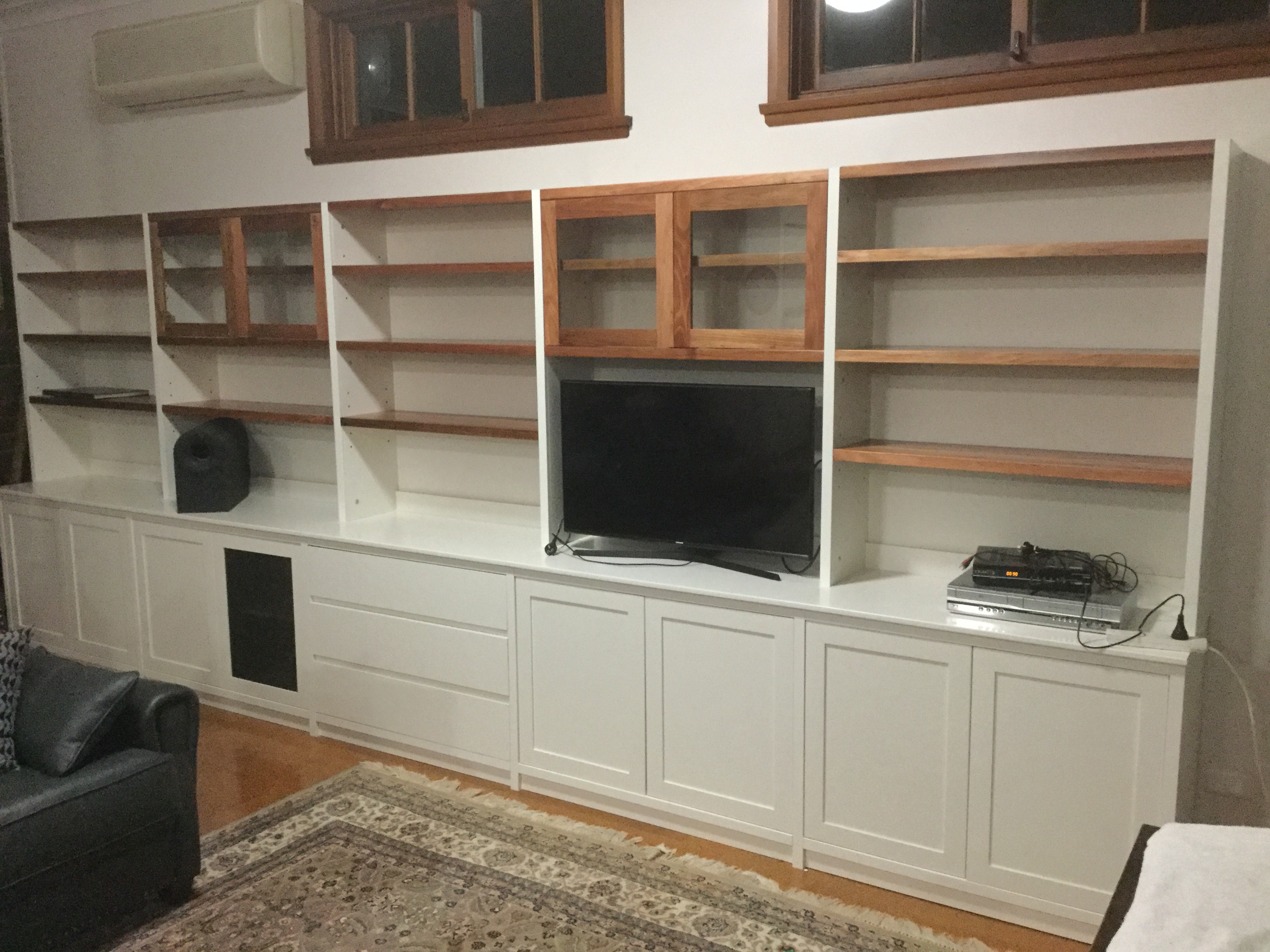 Turramurra
The Turramurra Bookcase
This bookcase was 3000mm long x 2600mm high custom built to suit the needs of the customer. Can be made in any size or timber.
again lots of storage but in a design we have created to fit  a bit of both worlds modern but also at home in the Hampton style as well
6m Bookcase and Desk
WOW this 6m unit was huge. Made from solid American Oak and painted in Porters Paint. Our customer came to us with a vision and for this unit and we created it.the contrasting colors work so well in a solid timber construction incorporating a desk area as well
Criss Cross Wall Unit
This wall unit is a unique criss cross design and ran down 2 walls in the home office with the criss cross desk in the middle. Made from solid American Oak stained. Can be made in any timber.the curves added to the doors add that look of distinction and the hand made feel solid timber at its best a beautiful design created from the input from the customer mixed with our ideas this is truly an individual piece
This was a Hampton style bookcase created with a lot of input from our customer a very tall grand unit the photos don't do it justice
this was 3m tall and 5m long with some solid blackbutt shelves just to break up the white on white look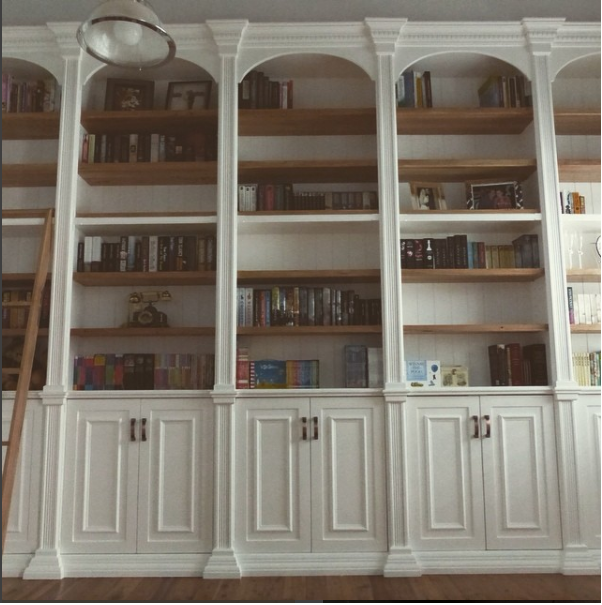 Art Deco
The Art Deco Wall Unit. This unit was made to match current furniture in the customers house. Roughly 3 meters long this unit as designed to fit in between 2 walls. Made from Yellow Stringy Bark with Silky Oak panels in the drawer fronts and Silky Oak trim at the top and bottom really finishes off this wall unit nicely. Can be made in any size or timber.
Custom White Wall Unit
This Wall Unit was custom built to fit the space for the customer & designed to match the doors currently in the room.
Blackwood Wall Unit
This wall unit was custom made to fit this space. With a desk the end and a laundry shoot in one of the cupboards. We custom built to suit anyone's requirements. Made from solid Tassie Blackwood.
This wall unit was the second wall unit we had built for this customer, due to the customer moving into another house. This wall unit was made out of a combination of hardwood and craftwood painted antique white USA. Customer built to suit the customer's requirements. Having a ladder to reach the top shelves, also the ladder could be stored flat against the unit when not being used.
Merbau Display / Bookcase
Contemporary style custom built all solid timber display. As all our units are custom built we can alter to any size requirements or use any timber available.
Solid Myrtle bookcase and display case
This unit was designed and built for storage of cookbooks. Built to the customers specifications. Would suit any Australian Hardwood
This Wall Unit was custom built for a home office, made out of Sydney Blue Gum.This wall unit was 2700mm long x 2500mm high. The middle cupboard accommodated a large printer which we made a slide out shelf to make it easier for all functions of the printer to be used. With a shaddow line top this gave the wall unit a very modern look. This unit can be made in any timber, contact us for a quote.
Spotted Gum Unit
This unit was custom built and designed to suit the customers requirements. This can be made any timber and configuration.
CD Storage Unit
This unit was designed to hold a rather large CD collection. Made from solid Blue Gum
White Custom Wall Unit
This wall unit was designed by an interior designer and made by Grandchester Designs. This bookcase also had a desk which returned and floating shelves. Can be made in in any timber