Custom Built Coffee Tables / Side Tables
Recycled Hardwood Large Nest of Tables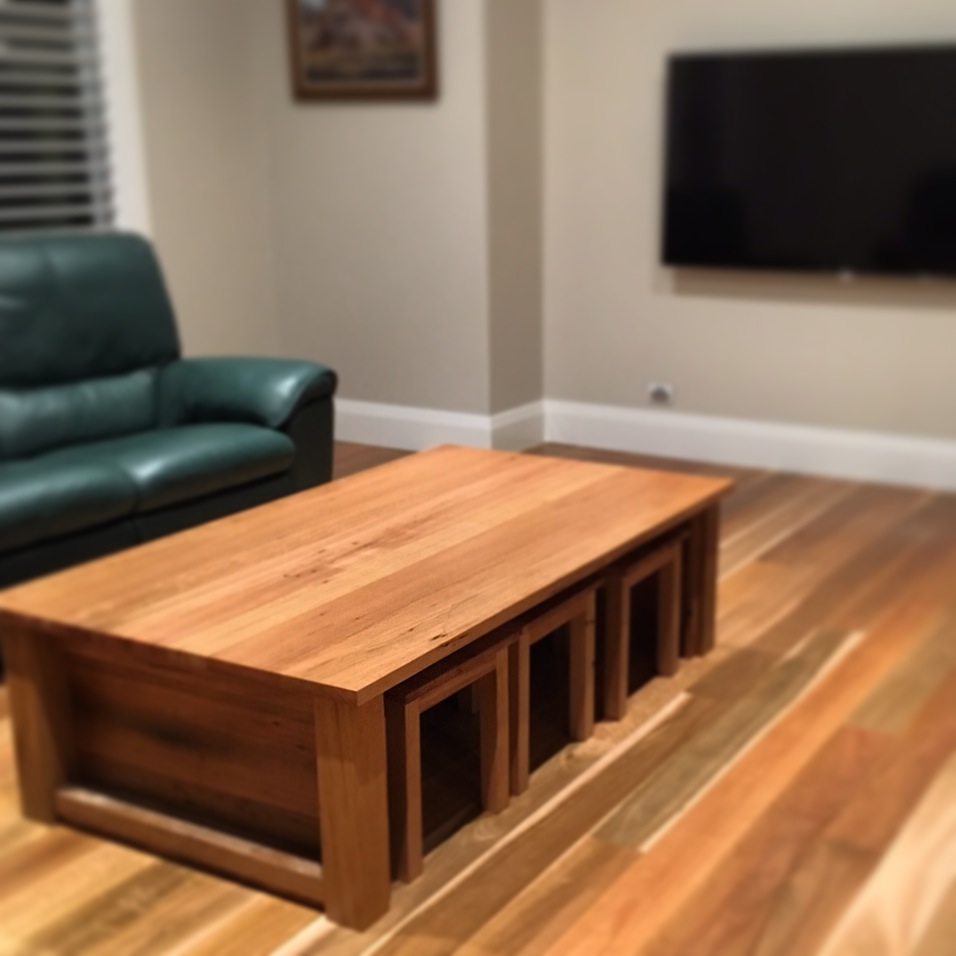 The Gladesville Coffee Table
Featured Redgum Shadowline coffee table with a slab top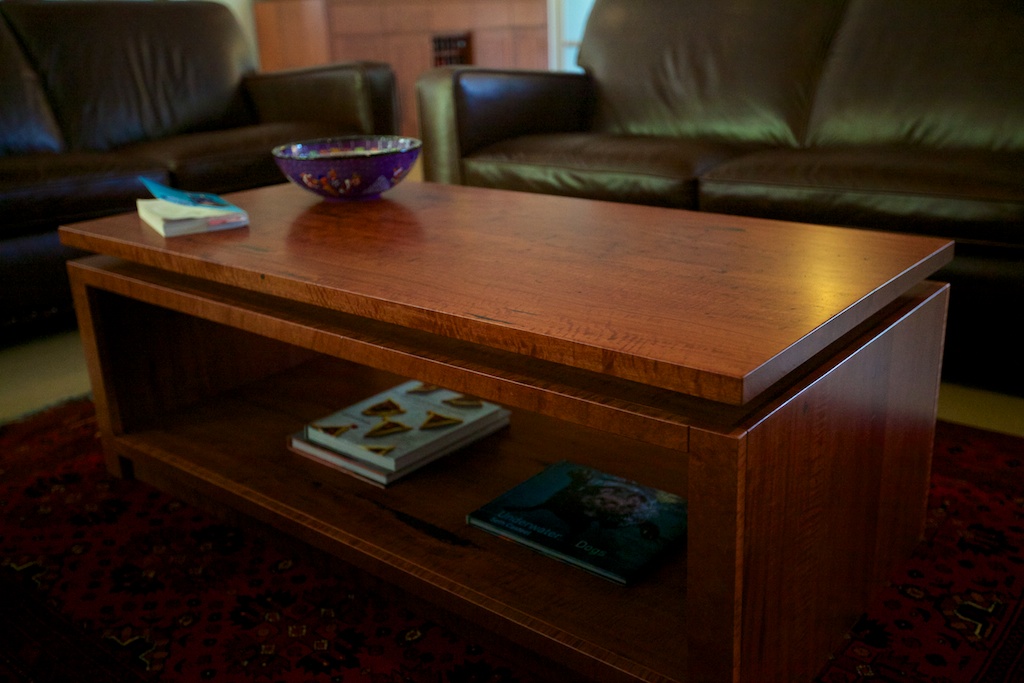 Recycled Hardwood Hall Table
Small Nest of Side Tables made of Recycled Hardwood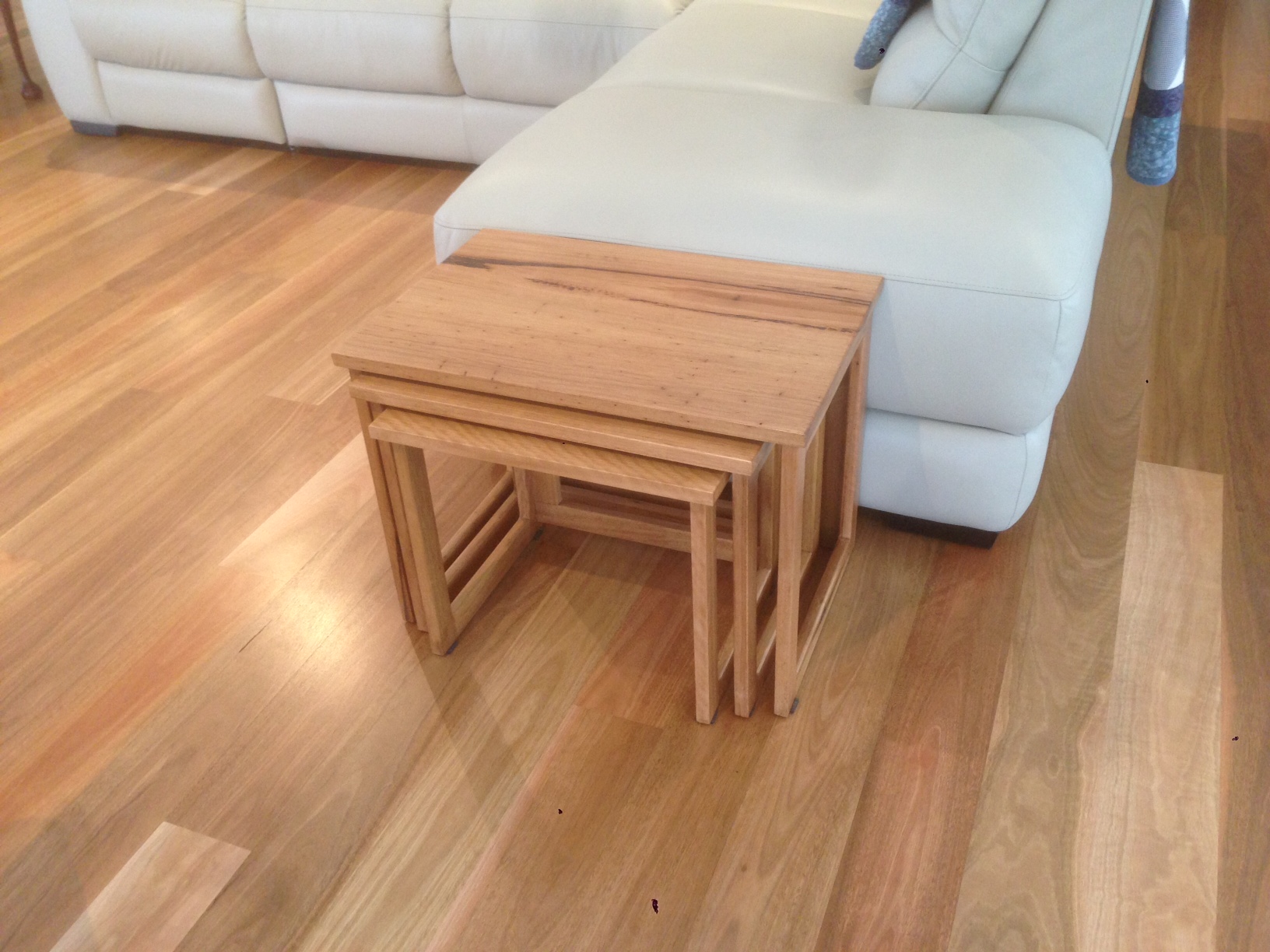 Colo Coffee table
1200 x 600
2 Drawer Coffee Table with magazine shelf to solve all those remote storage problems.
Easy opening finger pull drawers
Solid Sydney Blue Gum Timber
Ebenezer Coffee table with 2 x drawers
Solid Sydney Blue Gum Timber
2 Drawers 1 each side
1200 x 800
No Veneers used
Ivanhoe Coffee Table
Contemporary style coffee table. All our furniture is custom built and designed to your personal requirements and taste. Can be built in any timber available or stained to any colour if available.
Forest unique coffee table
The forest is a unique coffee table manufactured from a combination of different Australian hardwood timbers with timber inlay on the top. Each side has 2 drawers and alternate sides are slatted panels.
This one is 1 mtr x 1 mtr but can be made any size you require.
Milton 1 x drawer Coffee table
Single Drawer with finger pull for easy opening
1200 x 600
Solid Sydney Blue Gum Timber
No veneers used.
This Slab Coffee table was completely made from slabs of solid Redgum. one large drawer on each side on full extension runners
1400mmx800mm
Made from Blue Gum timber, this coffee table was a mix of our Bradfield style with a shaddow line top. 2 drawers at the bottom with an open shelf. A very nice clean and modern coffee table to suit any lounge room.
This coffee table was made from Yellow Stringy Bark and stained Blackwood to suit the customers colour scheme. This coffee table had drawers at the bottom with finger pulls, so no handles could be seen.
This Hall Table was made out of American Oak with a modern design in mind. With 2 drawers in the middle for pens, paper, keys etc. This hall table can be made in any timber and any size, contact us for a quote.
Berrima Coffee & Side Table
Blackwood Coffee Table & Side Table made to match the entertainment unit. Made from solid Blackwood. The coffee table also had a drawer to accommodate TV remotes. Can be made in any size in any timber.
Coffee Table with open shelf and center divider 1100mm long x 650mm wide coffee table made from solid Spotted Gum timber. This coffee table can be made in any size or timber.
Patterson Coffee Table Slab
This coffee table is a part of our signature series. Made from Yellow Stringy Bark with a Camphor Laurel slab top this coffee table is a piece of art and will make any room come alive. 1400mm long with 2 storage drawers on full extension ball bearing runners this coffee table has a platform base. This coffee table ready to view, buy and take home.
Congo Coffee Table
This coffee table was designed to match the Congo dining table, buffet and entertainment unit. Made from Vitex with Zebrawood panel. Can be made in any size or timber.
Glenbrook Hall Table
This hall table was made from yellow stringy bark. With 3 drawers for storage. Very modern design and can be made in any timber or size.
Shadowline Coffee Table
The coffee table was made from solid Stringy Bark. With 2 drawers, this coffee table had a modern shadow line and could be made in any size.
Tetris Coffee Table
Something different for a coffee table. Modules which you can place anywhere. Made from solid Blue Gum.
Coffee Table Coverts into Dining Table